Buck's Culinary Team Helps Guide ProStart Students to National Competition
|
'The future of our industry': High school students take part in cooking competition at Missoula College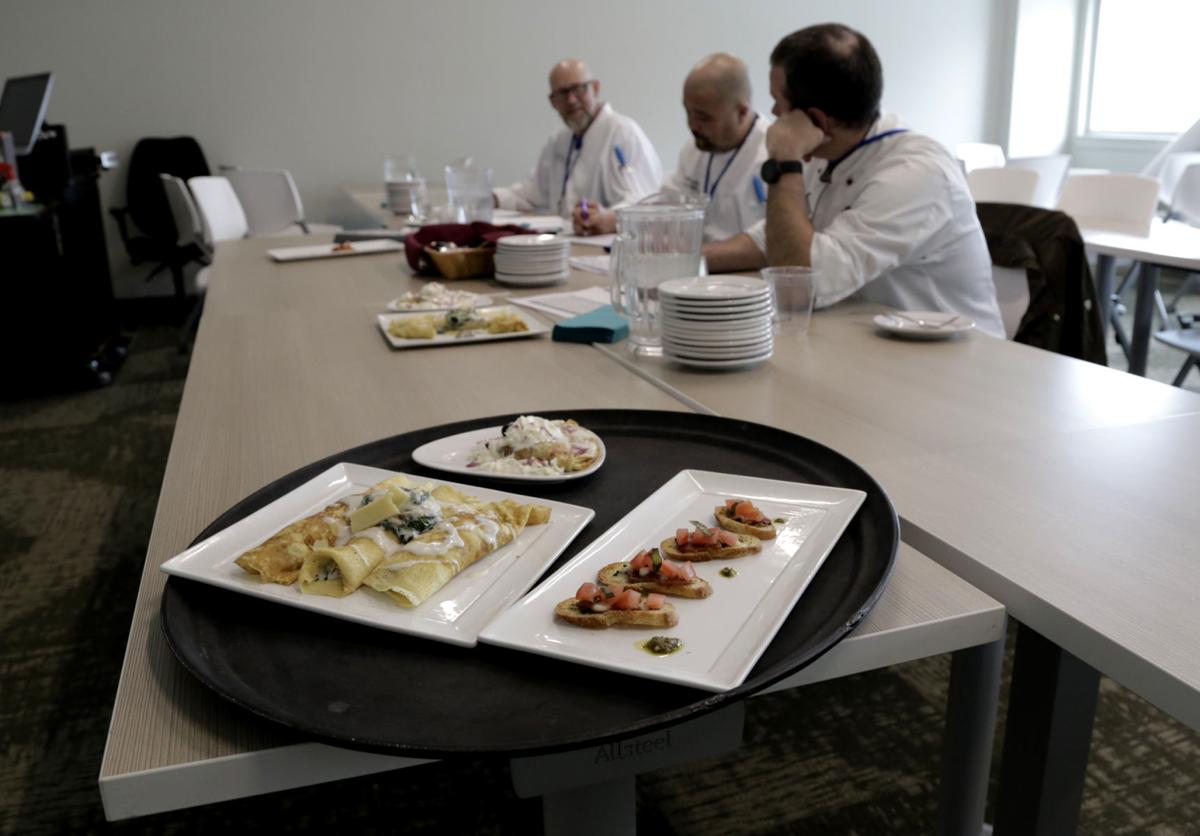 Chefs talk among themselves and judge the presentation and taste of food prepared by a competing team at the Montana ProStart Invitational culinary art competition on Sunday.
The sweet aroma of bacon and perfectly cooked steak pierced the nostrils on the third floor of the new Missoula College building on East Broadway on Sunday.
Seven high schools from around the state sent teams to compete in the Montana ProStart Invitational: A Cooking and Business Competition.
ProStart is a two-year high school program developed by the National Restaurant Association Education Foundation that teaches students about the culinary and management sides of the restaurant business.
ProStart Programs Manager Megan Jessee said it's important for the kids to work with industry professionals in the classroom, like Executive Chef Scott Mechura, who works at Buck's T-4 Lodge and Restaurant in Big Sky and mentors students at Belgrade High School.
"The really important part is to have someone like Scott come in and show them how this applies to the kitchen," Jessee said. "Work with them on menus and timing and flavors and those kinds of things."
Jessee went on to say a lot of the teams have been practicing for months and what they produce in the end is "incredible."
For Mechura, he said it's about helping the students learn new things. "This is the future of our industry, these kids," Mechura said. "Even if they don't have any interest beyond high school, they're learning a practical skill in school in a field I know about. So I can contribute and help them learn."
Amanda Matdies has been a ProStart educator for three years and brought her students to compete from Whitefish. She says the program teaches kids skills they can use in life, even if they don't pursue a career in the restaurant business. "The curriculum is so rigorous and relevant, it's basically AP culinary," Matdies said. "That's how I describe it to people."
For the culinary competition, teams all started with perfect scores of 100 points. They were deducted points for things like missing an ingredient or going over the allotted cooking time. The young chefs were also judged on sanitation, knife cuts and communication, among other things.
The teams of four had one hour to cook an appetizer, entree and dessert with two butane burners and no access to running water or electricity. Competitors were confined to a 10-by-10-foot cooking space and couldn't speak to educators or mentors throughout the process.
Riley Allen cooked the entree for the team from Drummond and thought everything went well. He cooked a grass fed beef tenderloin with a red wine reduction alongside buttered romanesco and golden beets — all topped with crispy onions and a soft boiled quail egg.
Drummond ultimately took second place in the culinary competition, finishing behind the team from Belgrade.
The group from Belgrade went with a theme of "trios" for its dishes and said communication is key in the kitchen.
"You got to be talking," team-member Austin Rollins said. "If you're moving around, we say 'behind' when you're behind someone or 'hot behind,' just that talk so whenever anyone turns around we don't run into each other."
The winning three-course meal consisted of a trio of scallops as an appetizer. A trio of lamb chops cooked with browned butter and an herb sauce served as the entree with a triple layered dessert to wrap it all up.
All teams produced two versions of their meals, one for judges to taste and critique and the other for display.
As for the management side of the competition, teams had to make a business plan for a prospective restaurant and had an hour to pitch it to a panel of judges.
Hunter Burmeister, a senior at Bozeman High School, said his team went with a 1960s space-themed restaurant with some modern touches and a high end menu.
He said they essentially had to design every aspect of a restaurant. "My portion of it was creating the menu, creating the dishes and then doing the costing of the menu," Burmeister said. "My favorite part is getting to put my own touch on a menu that I would like to have in a restaurant."
Bozeman took second place in the management competition, coming in behind Whitefish.
At the end of the day, lead culinary judge Chuck Schommer said it's all about giving back.
"When I was their age, we didn't have a program like this," Schommer, who co-owns Buck's T-4, said. "So at this point of my career it's just time to give back to the industry, it's just the right thing to do."
Both winning teams will receive an invite to the National ProStart Invitational which will be held in Providence, Rhode Island, April 27-29.